Request information
Fill out the online form to be contacted by a salesperson
Thank you Your message has been sent.
Error! Something wrong has happened
XENIA 70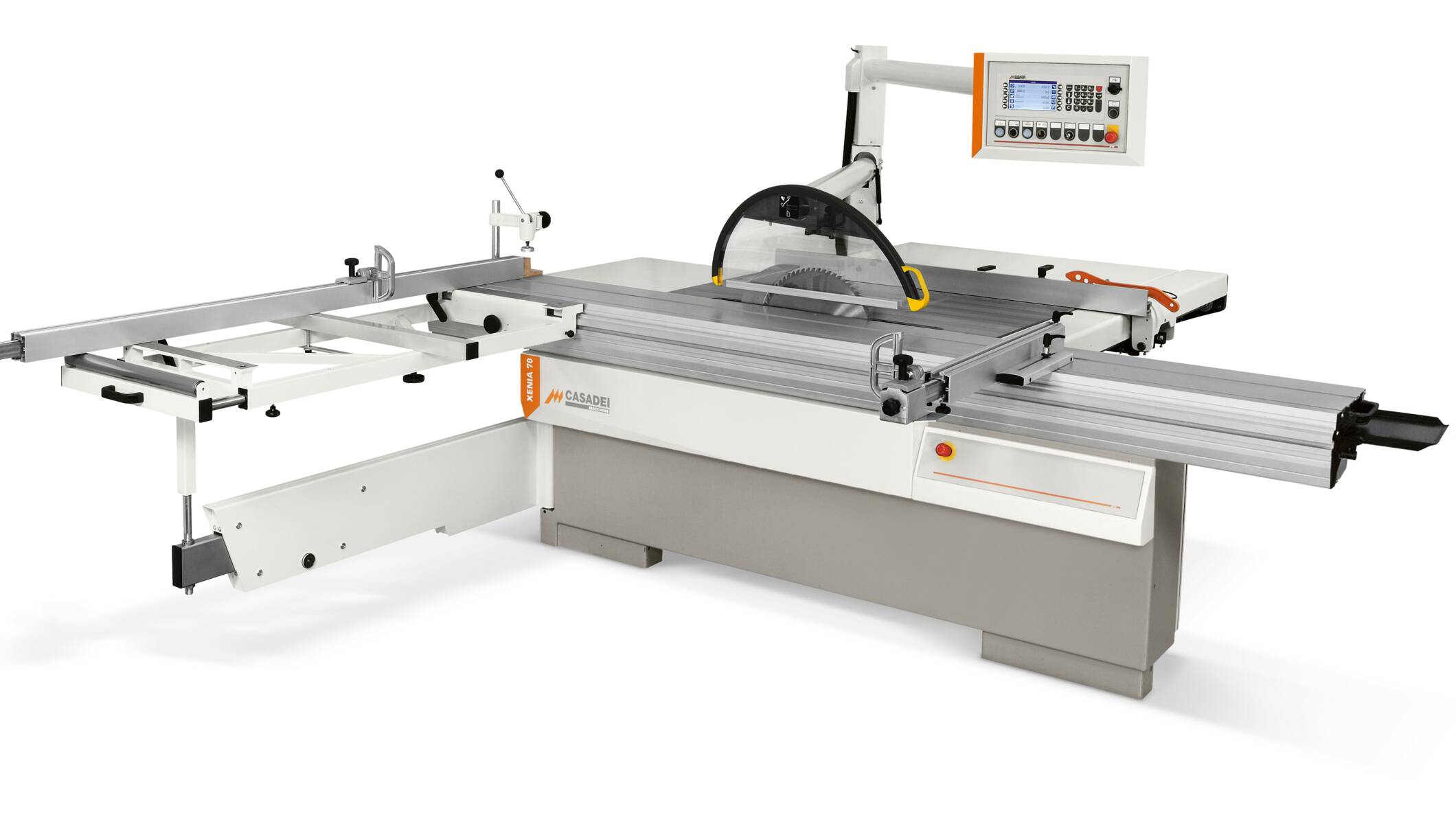 The new range of Casadei XENIA 70 automatic sliding table panel saws has been designed to fulfil the requests of a more and more demanding and qualified market.
Advantages
Reliability: Sliding system with prismatic guideways and preloaded ball bearings, for smooth and precise sliding table travel. All machine frame contact surfaces are machined to guarantee perfect planarity, impeccable precision and durability.
Ergonomics: Equipped with numerical control on overhead control panel which allows all machine axes to be controlled. Squaring fence with easy connection system ensures rapid machine set up.
Sturdiness: Machine frame of notable thickness and solid construction.
Technical data
XENIA 70A

Squaring capacity with extended stop:
with 3200 mm carriage
with 3800 mm carriage

3200x3200 mm
3800x3200 mm
Cutting width on rip fence
1270 MM
Blade tilt
46°
Max. cutting height at 90 deg. (blade 450 mm)
150 mm
Max. cutting height at 45 deg. (blade 450 mm)
106 mm
Saw blade motor power at 50 Hz (S6-40%)
7 kW / 9,5 Hp
Saw blade motor power at 60 Hz (S6-40%)
8 kW / 11 Hp
Scoring blade motor power at 50 Hz (S6-40%)
1,3 kW / 1,7 HP
Scoring blade motor power at 60 Hz (S6-40%)
1,5 kW / 2 Hp
Request information
Fill out the online form to be contacted by a salesperson
Contact us