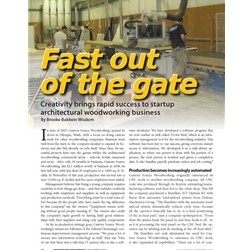 CUSTOM SOURCE - ARCHITECTURAL MILLWORK
Creativity brings rapid success to startup architectural woodworking business

In June of 2007, Custom Source Woodworking opened its doors in Olympia, Wash., with a focus on doing custom work for other woodworking companies. Business went well from the start, so the company decided to expand its horizons and also bid directly on jobs itself. Since then, its successful projects have run the gamut within the architectural woodworking commercial arena – schools, hotels, museums and more. After only 18 months in business, Custom Source Woodworking did $2.5 million worth of business in 2008, its first full year, with less than 20 employees in a 3,800-sq.-ft. facility.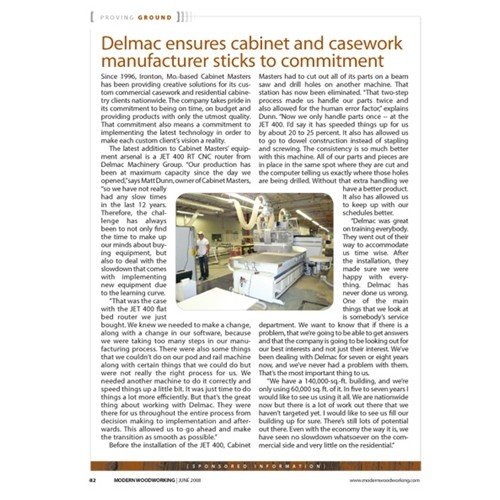 DB GODFREY - ARCHITECTURAL MILLWORK
A small shop acts like a big one

The workforce of Alameda, CA based DB Godfrey Inc. only consists of four people, but that doesn't stop the high-end commercial and residential casework manufacturer from taking on the projects one might find in a much larger plant.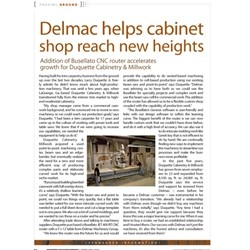 DUQUETTE - ARCHITECTURAL MILLWORK
Delmac helps cabinet shop reach new heights

Having built his trim carpentry business from the ground up over the last two decades, Larry Duquette Jr. freely admits he didn't know much about high production machinery. That was until a few years ago, when LaGrange, GA based Duquette Cabinetry & Millwork transitioned fully from the interior trim market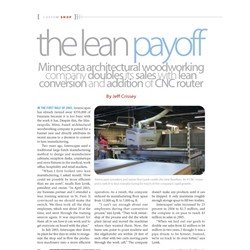 INTERSCAPES - ARCHITECTURAL MILLWORK
Minnesota architectural woodworking company doubles its sales with lean conversion and addition of CNC Router

In the first half of 2005, Interscapes has already turned away $350,000 of business because it is too busy with the work it has. Despite this, the Minneapolis, Minn.-based architectural woodworking company is poised for a banner year and directly attributes its recent success to a decision to convert to lean manufacturing.
Two years ago, Interscapes used a traditional large batch manufacturing method to design and manufacture cabinets, reception desks, countertops and store fixtures in the medical, work office, hospitality and retail markets.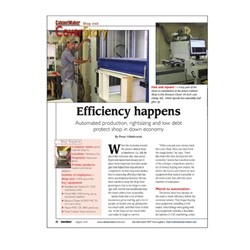 JAMES CABINET SHOP - ARCHITECTURAL MILLWORK
Automated production, rightsizing and low debt protect shop in down economy

When the economy soured, the James Cabinet Shop in Matthews, GA, felt the pinch like everyone else. But owner Raymond James had already put in place three important business strategies that helped in stay ahead of competitors. He has long-term dedication to improving efficiency that has led to automated production. He has been careful to keep the shop from growing too fast or too large to manage well. And he has fastidiously kept the shop's debt as low as possible.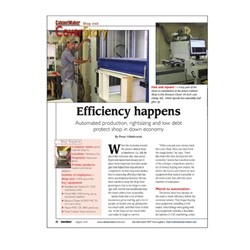 JP MILLWORK - ARCHITECTURAL MILLWORK
CNC Machining Center addition increases profitability for Alabama millwork company

Located on the plains of Alabama, J.P. Millwork has become one of the fastest growing millwork companies in the state. The Wetumpka, Ala. based company started 26 years ago as a small family-owned cabinet shop and slowly found its way into the architectural millwork market that it thrives in today.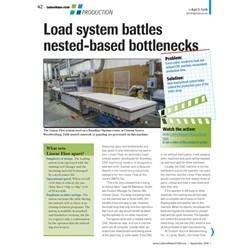 LOAD SYSTEM BATTLES NESTED BASED BOTTLENECKS
Reducing labor and bottlenecks are two goals in any manufacturing operation

Reducing labor and bottlenecks are two goals in any manufacturing operation. Linear Flow, an automatic load/unload system developed for Busellato CNC machining centers, is designed to address both. Delmac won a Sequoia Award in the machinery productivity category for the Linear Flow at the recent AWFS Fair.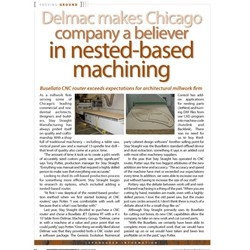 STAY STRAIGHT - ARCHITECTURAL MILLWORK
Delmac makes Chicago company a believer in nested based machining

As a millwork firm serving some of Chicago's leading commercial and residential architects, designers and builders, Stay Straight Manufacturing has always prided itself on quality and craftsmanship. With a shop full of traditional machinery – including a table saw, vertical panel saw and a manual 13-spindle line drill – that level of quality also came at a price: time.

"The amount of time it took us to create a job's worth of accurately sized custom parts was pretty significant," says Tony Potter, production manager for Stay Straight. "Everything was manual and that required a highly skilled person to make sure that everything was accurate."