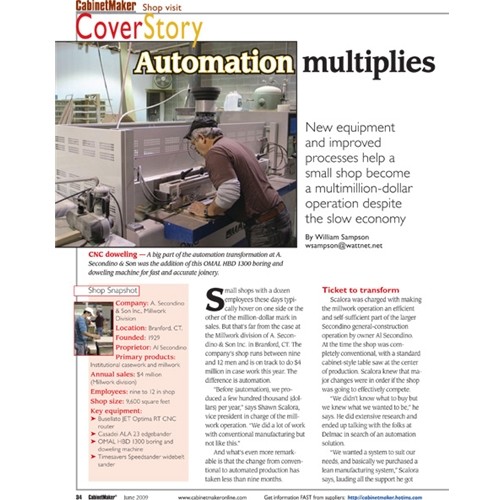 A SECONDINO - COMMERCIAL CASEWORK
New equipment and improved processes help a small shop become a multimillion-dollar operation despite the show economy.

Small shops with a dozen employees these days typically hover on one side or the other of the million-dollar mark in sales. But that's far from the case at the Millwork division of A. Secondino & Son Inc. in Branford, CT.

The company's shop runs between nine and 12 men and is on track to do $4 million in case work this year. The difference is automation. "Before (automation), we produced a few hundred thousand (dollars) per year," says Shawn Scalora, vice president in charge of the millwork operation. "We did a lot of work with conventional manufacturing but not like this."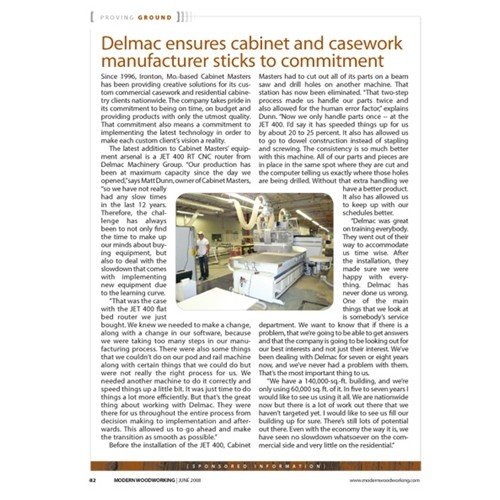 CABINET MASTERS - COMMERCIAL CASEWORK
Delmac ensures cabinet and casework manufacturer sticks to commitment

Since 1996, Ironton, Mo.-based Cabinet Masters has been providing creative solutions for its custom commercial casework and residential cabinetry clients nationwide. The company takes pride in its commitment to being on time, on budget and providing products with only the utmost quality. That commitment also means a commitment to implementing the latest technology in order to make each custom client's vision a reality.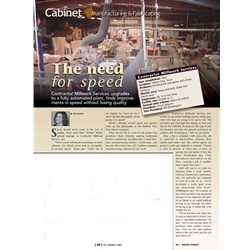 CONTRACTOR MILLWORK - COMMERCIAL CASEWORK
Contractor Millwork Services upgrades to a fully automated plant, finds improvements in speed without losing quality

Speed should never come at the cost of quality. That's what Mike "Mooke" White, general manager at Contractor Millwork Services, says. "When you're talking about getting out more cabinets, you should never look to cut quality to increase speed," White says. "That's one of my biggest 'no, won't do its'; I won't sacrifice the quality of the product for speed."

White's attitude toward speed and quality sums up the philosophy at the Haltom City, Texas-based company.

What started off as a sort of side project for president Chuck Johnson, making residential kitchen countertops morphed into a small business manufacturing kitchen countertops, and has now blossomed into a $2.5 million company manufacturing commercial case work.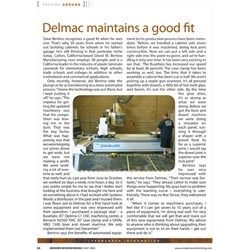 DAVID BERTINO - COMMERCIAL CASEWORK
Delmac Maintains a good fit - Dave Bertino recognizes a good fit when he sees one

That's why 20 years from when he started out building cabinets for schools inhis father's garage, he's still thriving in that particular niche today. Colton, California-based David M. Bertino Manufacturing now employs 30 people and is a California leader in the industry of plastic laminate casework for elementary schools, high schools, trade schools and colleges in addition to other institutional and commercial applications. Only recently, however, did Bertino take the plunge as far as transitioning to a more automated process. "I knew the technology was out there, but I kept putting it off," he says. "The impetus for getting the updated machinery was that the competition was leaving me in the dust."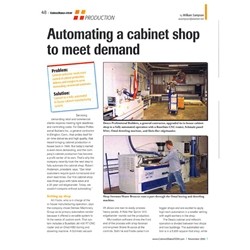 DESCO - COMMERCIAL CASEWORK
Automatic a cabinet shop to meet demand

Servicing demanding retail and commercial clients requires meeting tight deadlines and controlling costs. For Desco Professional Builders Inc., a general contractor in Ellington, Conn., that prides itself for on-time deliveries and high quality, that meant bringing cabinet production in house back in 1996.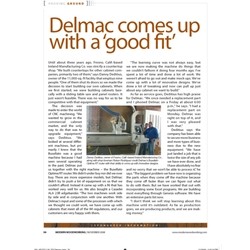 IRELAND MANUFACTURING - COMMERCIAL CASEWORKS
Delmac comes up with a 'good fit'

Until about three years ago, Fresno, Calif.-based Ireland Manufacturing Co. was strictly a countertop shop. "We built countertops for other cabinet companies, primarily two of them," says Danny Deditius, owner of the 11,000-sq.-ft facility that employs nine people. "One of them shut its doors so we made the decision to start building our own cabinets. When we first started, we were building cabinets basically with a sliding table saw and panel routers. It just wasn't feasible. There was no way for us to be competitive with that equipment."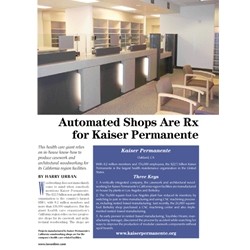 KAISER PERMANENTE - COMMERCIAL CASEWORKS
Automated shops are Rx for Kaiser Permanente

Woodworking does not immediately come to mind when somebody mentions Kaiser Permanente. The $22.5 billion non-profit health organization is the country's largest HMO, with 8.2 million members and more than 136,000 employees. But the giant heal th care organization's California region relies on two progressive shops for its casework and architectural woodworking.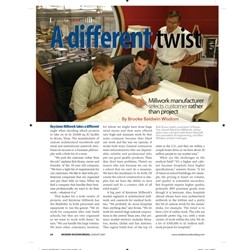 KEYSTONE - COMMERCIAL CASEWORK
Millwork manufacturer selects customer rather than project

Keystone Millwork takes a different angle when deciding which projects to take on in its 20,000-sq.-ft. facility in Bryan, Texas. The manufacturer of custom architectural woodwork and retail and institutional casework attributes its success to a business philosophy with a little bit of a twist.

"We pick the customer rather than the job," explains Bob Kraus, owner and founder of the 18-year-old company. "We have a tight list of requirements for our customers. We like to deal with professional companies that are organized and pay their bills on time. When we fi nd a company that handles their business professionally, we want to do their work – whatever it is."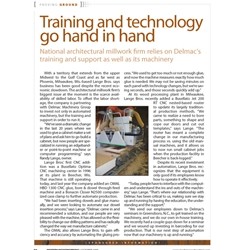 LANGE BROTHERS - COMMERCIAL CASEWORK
Training and technology go hand in hand

With a territory that extends from the upper Midwest to the Gulf Coast and as far west as Phoenix, Milwaukee, Wis.-based Lange Bros. says business has been good despite the recent economic slowdown. The architectural millwork firm's biggest issue at the moment is the scarce availability of skilled labor. To offset the labor shortage, the company is partnering with Delmac Machinery Group to invest not only in automated machinery, but the training and support in order to run it.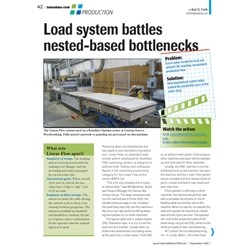 LOAD SYSTEM BATTLES NESTED BASED BOTTLENECKS
Reducing labor and bottlenecks are two goals in any manufacturing operation

Reducing labor and bottlenecks are two goals in any manufacturing operation. Linear Flow, an automatic load/unload system developed for Busellato CNC machining centers, is designed to address both. Delmac won a Sequoia Award in the machinery productivity category for the Linear Flow at the recent AWFS Fair.