The R 600 and R 800 routers are very sturdy machines with an excellent construction quality.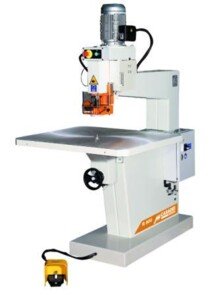 +
Advantages
Sturdiness: The large sized, heavily ribbed, cast iron tables allow large sized parts to be precision machined easily.
Flexibility: Routing head has revolving turret with six adjustable stops. Quick machine adjustments by means of a front handwheel.
Technical data
R 600
R 800
Spindle head-frame distance
600 mm
800 mm
Vertical spindle stroke
80 mm
Vertical table stroke
150 mm
Max. table-spindle distance
180 mm
Table size (non EC)
800 x 600 mm
Table size (EC)
960 x 880 mm
Motor power at 50 Hz (HP) (S1)
1,5/2,2 kW (2/3)
2,2/3 kW (3/4)